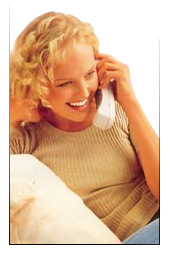 Many of the women at Fiance.com are very interested in receiving your telephone calls… Why not telephone the girl of your dreams right now? She is only a phone call away!
From any country in the world, you can speak directly to these beautiful women for only $3 per minute and this includes having a professional interpreter on the line to insure your words are mutually understood.

You'll never be misunderstood!
When love and your future are the topics of discussion, the last thing you want is any confusion. You'll find the helpful interaction and clarity that an interpreter can provide is worth every penny.
If your friend's English needs a little improvement, which is usually the case, a three-way conference call with support from one of our professional interpreters can make a world of difference.
It's so easy!
You can call any lady from our photo gallery

by using our three-way phone conference service.
How three-way, interpreter assisted, phone conferencing works:
After you complete the order form, we'll contact the lady and agree on the date and times. Based on your membership status, a $5-$10 set-up fee is applied. VIP members are charged no set-up fees.
If the lady is unavailable for whatever reason (she may not have a working phone number, is traveling, or doesn't want to join the call), we'll arrange for another conference call for you with no additional set-up fees.
The cost of this service depends on the duration of the call and your membership type. Basic membership: set-up fee is $10, cost is $3 per min., Premium membership: set-up fee is $5, and cost is $3 per min., VIP membership: set-up fee is $0, and cost is $3 per min.
Registered members, log in to view the special order form.
Not a member? It's FREE to register at Fiancé.com.
To Register now, click HERE!